You Are Here:
MindandMusic2018 - Let the music do the talking in raising Mental Health Awareness
Latest News
MindandMusic2018 - Let the music do the talking in raising Mental Health Awareness
27th June 2018
An Irish Traditional Orchestra & Choir is being set up to help promote Good Mental Health
This opportunity is open to anybody who plays an instrument and can play a reel at tempo in Traditional music or grade 3 Classical.
The ability to read music is desirable but not essential!
Do you enjoy singing and have always wanted to join a choir? This is your chance!
Choir experience is not essential but let us know if you have any previous singing experience.
Preparation Workshops take place August (1st weekend only) & during September
Concert on Sunday 7th October 2018 with the theme of Mental Health Awareness
Further Information available via
Facebook /mobile messenger (Facebook page 'MindandMusic2018') (Request a registration form)
or
E-mail <mindandmusic2018@gmail.com> for a registration form,
or
Come to registration in Dunloy Parish Centre on Thursday 5th July 7.00pm
Membership of Comhaltas is not required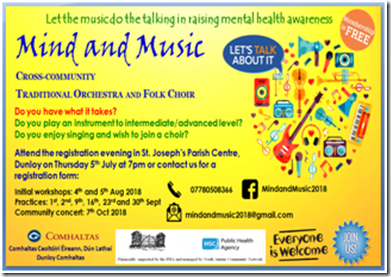 Comments