Events
Become a HeartStart Instructor - Session 1 of 2
9th August 2016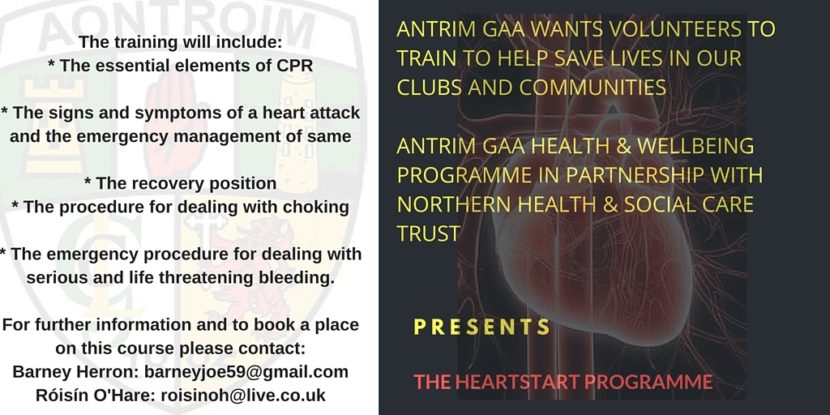 ANTRIM GAA HEALTH & WELLBEING PROGRAMME IN PARTNERSHIP WITH NORTHERN HEALTH & SOCIAL CARE TRUST
PRESENTS
THE HEARTSTART PROGRAMME
According to the Community Resuscitation Strategy for NI (2014), in a typical year over 1400 people suffer an out-of hospital cardiac arrest - fewer than 10% of them will survive.
The immediate initiation of bystander CPR can double or quadruple survival from out-of-hospital cardiac arrest.
Antrim GAA Health & Wellbeing Committee in a joint venture with the Northern Health and Social Care Trust are launching a pilot scheme for all Antrim Clubs to nominate a representative to become a HeartStart Instructor, who will in turn be able to cascade Emergency Life Support and CPR training to their fellow club members and raise the standard of resuscitation.
The aim of this course is to equip instructors with the knowledge, practical skills and confidence to teach Emergency Life Support within their clubs and community.
The training will include:
• The essential elements of CPR
• The signs and symptoms of a heart attack and the emergency management of same
• The recovery position
• The procedure for dealing with choking
• The emergency procedure for dealing with serious and life threatening bleeding.
We are inviting applicants from all Antrim Clubs to take part in this important pilot scheme, although we are limited to 12 places in the first phase.
There will be two separate training sessions which each successful applicant must attend to become a HeartStart Instructor.
These will take place on:
• Tuesday 9/08/16 at Roger Casements GAC at Portglenone from 7.00-9.00pm
• Wednesday 17/08/16 at Fern House Antrim Area Hospital from 09:30am- 3:30pm
As outlined above both sessions must be attended to receive the instructor/trainer status.
People participating in the training must commit to doing at least two training sessions with groups over the course of a year. The training will require individuals who have the confidence to stand up in front of groups to deliver the course content and would ideally be suited to those with experience in such settings and also who have an interest in this important lifesaving scheme. The course will equip participants with the skills and knowledge to go out to groups within your own clubs and community to deliver the training. Not only will this be a huge asset to both club and community but on a personal basis it will enhance your CV with a lifesaving skill that will be much sought after by future employers
We expect demand for this training to be extremely high, so places will be allocated on a first come, first served basis and in recognition of participants' ability to attend both sessions.
For further information and to book a place on this course please contact:
Barney Herron: barneyjoe59@gmail.com
Róisín O'Hare: roisinoh@live.co.uk